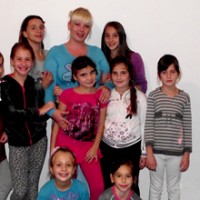 Rad sa decom me ispunjava
Vladislava Pipi Vojvodić rođena je 1981. godine u Pančevu. Osnovnu školu i gimnaziju je završila u Pančevu a Fakultet za sport i turizam TIMS u Novom Sadu. Paralelno sa redovnim školovanjem završila je nižu baletsku školu i školu za plesnog sudiju. Vladislava je danas vlasnica plesnog studija "Balerina" koji niže velike uspehe u zemlji i inostranstvu. Iako plesnu školu vodi u nekoliko naseljenih mesta u okolini i u samom Pančevu, kaže da starčevačke balerine imaju ubedljivo najviše pehara i medalja osvojenih na državnim, balkanskim, evropskim i svetskim takmičenjima.

Kako ste odlučili da se bavite baletom?
- Veliki uticaj na mene je imala moja starija sestra koja je pohađala školu baleta. Prve korake sam upravo od nje naučila. Već sa četirigodine, tačnije 1985. počinjem aktivno da se bavim baletom. Što se odluke tiče u tim godinama većina devojčica želi da postane balerina, kasnije sa odrastanjem puno njih odustane. Do moje 15. godine baletske aktivnosti su se svodile na putovanja, nastupe, takmičenja, koncerte.

Šta se kasnije promenilo?
- U 16. godini sam shvatila da želim da se bavim baletskom koreografijom. Razlog je jednostavan, svoje znanje mogu da prenosim na drugu decu, za balerine postoji starosna granica kada dođe trenutak da moraju da se povuku iz aktivnog takmičenja a koreografi se više školuju nego sami igrači.

Šta smatrate kao prekretnicu u vašem životu?
- Definitivno događaj iz 1997. godine kada sam prvi put odvela decu na evropsko prvenstvo u Pariz. Tamo smo osvojili prvo mesto što je na mene ostavilo jak utisak i pružilo motivaciju da nastavim dalje. Sa decom sam proputovala bukvalno celu evropu. Sve ove godine sam na dobrom glasu jer na svakom takmičenju na kojem sam se pojavila sa prijavljenom ekipom osvojili smo neka od prva tri mesta.

Odlučili ste da otvorite školu baleta u Starčevu?
- Školu sam pokrenula u nekoliko naseljenih mesta u okolini i u samom Pančevu. U Starčevu se to desilo 2008. godine. Započela sam rad sa 23 dece i ubrzo smo se našli na međunarodnom takmičenju u Kanjiži gde smo osvojili 1. mesto. Ne dugo zatim se desilo dražavno prvenstvo u Novom Sadu gde smo osvojili 2. mesto. Usledila je masa koncerata Pančevo, Kovačica, Padina, Kačarevo… Starčevačke balerine stigle i su i prestigle svoje vršnjakinje iz drugih naseljenih mesta, počelje su da osvajaju pregršt pehara i medalja.

Imate dobru saradnju sa lokalnom zajednicom?
- Od samog starta saradnja je bila dobra. Od 2009. godine organizujemo sada već tradicionalni 8-martovski baletski koncert u Domu kulture na kome nam nastupaju i mnogi gosti. Odličnu saradnju imamo i sa MZ Starčevo, na raspolaganju smo im za mnoge kulturne manifestacije. Ujedno, imamo dobru saradnju i sa pančevačkim Karnevalom gde tradicionalno nastupamo sa baletskom predstavom "Uspavana lepotica". Uvek sam otvorena za saradnju i humanitarni rad, zajedno sa sestrom sam u Pančevu organizovala veliki humanitarni koncert za decu Kraljeva kada je ovaj grad bio pogođen zemljotresom. Sa Osnovnom školom u Omoljici organizovala sam humanitarni koncert pod nazivom "Bitka za bebe".

Vaše balerine su vlasnice medalja van naših prostora?
- Time što su "pokupile" sve moguće medalje u Srbiji, Milica Crvenković je nosilac titule evropskog šampiona, na Balkanu smo drugi. Na svetskom prvenstvu u Španiji Marijeta Latković je osvojila 2. mesto, u formacijama starčevačke balerine su osvojile dva prva mesta. U ovoj godini se desila jedna povoljna stvar za našu decu, radi se o tome da iz lige budućih šampiona prelaze u profesionalne sportiste kada je ples zvanično postao sport.

Kakve se još povoljnosti kriju iza tog priznanja?
- Pored toga da su naša deca sada profesionalni sportisti na državnom prvenstvu u Nišu za solo i parove u kategoriji soliste drugo mesto osvojila je Sara Pešić a u kategoriji parova državni prvaci su Marija Šajić i Jovana Jović. Time što su postale prvaci stekle su pravo na 10 poena za upis u Sportsku školu. To je svakako povoljnost pored titule državnog prvaka.

Kakvi su vam planovi za budućnost?
- Uvek ih ima i trudim se da istrajem u njima. Prvo što nas čeka sada u novembru jeste međunarodno takmičenje u Istambulu u Turskoj, novogodišnji kup u decembru u Valjevu, u januaru ponovo sledi Evropsko prvenstvo u Austriji. Svim snagama se trudim da naše balerine spremim za nove pobede, rad sa decom me ispunjava a najveća nagrada za mene su njihove pobede.

Sva zainteresovana deca koja bi se bavila baletom mogu doći utorkom i četvrtkom u ulicu Petra Drapšina 15b i tako se upišu na balet.